FREDERIC B. VOGEL
CTI FOUNDER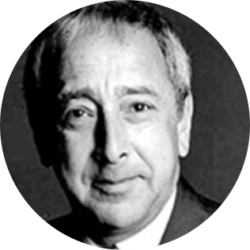 CTI founder Frederic B. Vogel was one of the theater community's most respected and knowledgeable management advisors.
Having created Commercial Theater Institute in conjunction with the League of American Theatres and Producers, Inc. and Theatre Development Fund in 1982, he trained two generations of American theater producers and scores of managers of regional theaters until his death in November 2005. He also wrote extensively on not-for-profit theater management. His book "Producing for the Commercial Theatre" was published in 2006.
Mr. Vogel's producing and investing credits include more than 50 Broadway and Off-Broadway productions. On Broadway, he co-produced Enchanted April and the Tony Award®-nominated Marlene. Off Broadway, he co-produced Shakespeare's 'R&J', R.T. Robinson's The Cover of Life, and the musical Lust. Mr. Vogel produced his first independent film, A Tale of Two Pizzas, in 2004. 
For 17 years, Mr. Vogel headed FEDAPT (Foundation for the Extension and Development of the American Professional Theatre), which offered development and technical assistance to more than 500 theaters, dance organizations, performing arts centers and other arts projects throughout the United States, with support from leading foundations and Actors' Equity Association.
In 1988, Mr. Vogel was a founding member of Broadway Cares. With the merger of Broadway Cares and Equity Fights AIDS in 1992, he joined the BC/EFA Board of Trustees, and served until his death as chair of the BC/EFA National Grants Committee.