A Chat with Disney Theatrical Productions President, Tom Schumacher
Oct 18, 2018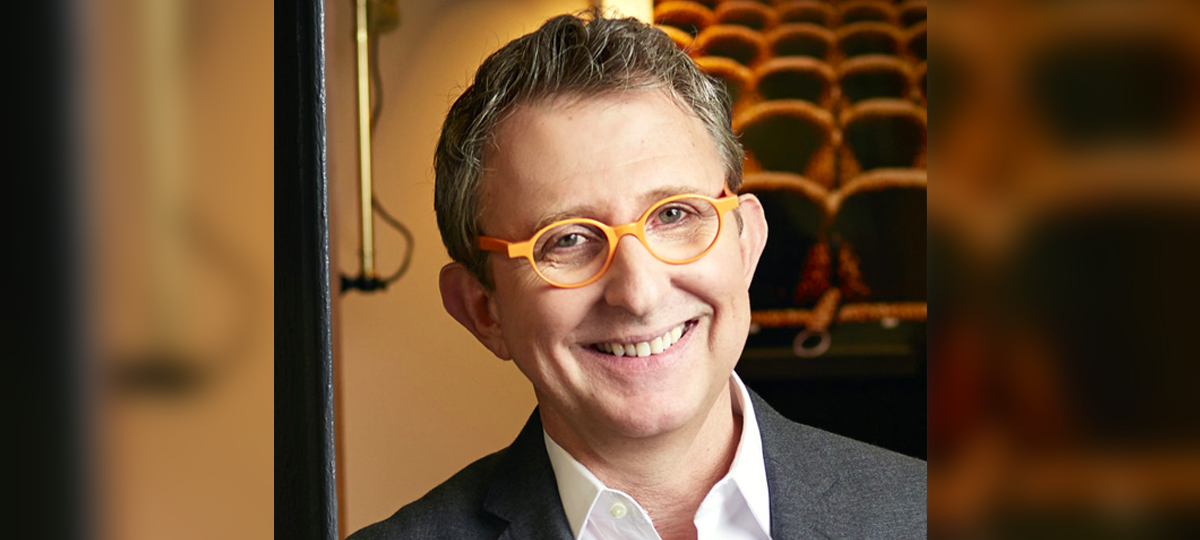 Edited for clarity from a recorded conversation with Madeline Carney.
On a particularly hot and sticky Manhattan afternoon, I found myself cooling off in the lobby of Disney Theatrical Productions (sitting on a massive violet velvet couch) waiting to interview President Tom Schumacher.
Wearing his signature color-block glasses, Mr. Schumacher emerged from two heavy glass doors, ushering me inside of what felt like Fantasia. In true Disney fashion, the office – a converted theater which had once housed the Ziegfeld Follies – was magical. A large, sleek balcony overlooked the army of desks below, and pianos, costume displays, and historical photos sprinkled the space.
As we settled into Mr. Schumacher's office, which I couldn't help but notice had some parallels in its design to the set of The Lion King, I had a long list of questions I had diligently prepared for the interview. Those questions were promptly cast aside, as I became transfixed by Mr. Schumacher's fascinating and somewhat winding history. Here's just a snippet of our conversation.*
You've had an extensive and impressive career in the entertainment industry. Can you tell us a bit about your career path, including how you got your start and what inspired you to enter the business in the first place?
I was born wanting to make theater. I was probably fifteen-years-old when my community center hired me to start directing youth theater – that was my first professional job. I then was a theater major at UCLA and they hired me the day I graduated to be a carpenter and a sound operator. A few months later, I answered a payphone in a UCLA hallway at midnight while we were striking a set. It was a friend of mine who was working for Gordon Davidson at the Center Theatre Group/Mark Taper Forum in Los Angeles. He needed a driver the next morning for the legendary Joe Chaikin, founder of The Open Theater. I drove Joe Chaikin, the Taper liked me, and I've never been unemployed since. It's a terrible, terrible way to get a job. But, while I worked for the Taper I worked on the Olympic Arts Festival and from that I met people who got me to Disney and then Disney asked me to produce a movie (I had never made a movie before, but nobody else would do it, so they had to ask me). And then Peter Schneider and I made a bunch of movies together and that grew into Disney Theatrical and here we are. It's the most ridiculous way to have built a career.
So, what does a typical day look like for you?
Well, every day is different because my fundamental job is producing these shows all over the world. Part of my job is creating new shows. So, for example, yesterday I met with lots of business partners on various enterprises we have around the world. Today has been mostly about our current work. I started the day in our design studio looking at Christopher Oram's set models to figure out modifications to Frozen for the first national tour. From there, I went into a meeting about licensing (we have many licensed titles that are in schools and professional theaters around the country). That went into a development meeting about new properties we're working on; then I went to see a headhunter for lunch to help her with some searches she's doing around the country. Now I'm doing an interview with you, and then I'm going to an annual operating plan meeting with the studio. After that is a reception for someone who has worked in our wardrobe department for twenty-four years and is retiring, and then I'm at a show tonight. That's a typical day.
Speaking of licensing – can you talk a bit about the goals of that program?
Like many people (maybe yourself, and certainly people who are reading this) I started doing shows as a kid – you know, I played Tommy Djilas in The Music Man and Charley Bates in Oliver!. I did all these shows acting as a kid and then eventually began directing and producing licensed material. So, to me, we needed to make a giant commitment to making our shows accessible to elementary schools and high school students and colleges and summer stock and all the places that I got to work. We began the licensing program a number of years ago and, fortunately, because our titles are so well-known, the shows we developed are being done in schools all over, including the upcoming Freaky Friday. (The movie starring Heidi Blickenstaff is ours too. It's really exciting because Heidi did our stage version which we launched at the Signature Theatre in D.C. and then took around the country. The Disney Channel partnered with us and they made a movie out of it, which premiered early August).
So, the shows that you develop are not always Broadway bound?
There are two different kinds of shows. There are things that really want to be on Broadway, but there are also titles that we've developed knowing that they are perfect for licensing markets. These shows activate people (and I wrote a book about this; I'm working on the third edition of this now), because kids are shown that there are all these jobs in theater beyond those onstage: backstage, in the house, and in the box office. The more that we can put out material that people genuinely want to do, the more we're developing an audience for Broadway.
How do you distinguish what's meant for Broadway versus a licensed title?
I suppose that's fundamentally instinct, but there are certain factors, and it's different depending on the producer. For better or worse, we at Disney represent a brand, so you have a certain set of expectations when you come see one of our shows. Those expectations have altered over time, but I think fundamentally there's an expectation that a Disney show is going to be something like Beauty and the Beast, Aladdin, The Lion King, or Frozen – one of these big ones. Those also have the great advantage of playing to the broadest possible audience, which for us has been useful – a serious New York theatergoer can come and enjoy these shows, as can an international theatergoer. In the case of The Lion King, now running over twenty years, a substantial part of that audience has seen the show before and is actually speaking a foreign language, but they understand what they're seeing. The fact that we can play to an international audience is very, very helpful on Broadway. And then there's Newsies, which was developed for licensing and through a bizarre sequence of events ended up on Broadway. But still, its greatest power will have been in its touring, which was very successful, and in its licensed work.
You mentioned The Lion King. How do you keep such a long-running show fresh?
There are two things that we do to keep the production's presentation contemporary, one creative and one strictly business.
The first thing we've done is work very hard to keep the show fresh. So, for example, if you were to watch a video tape of the opening night performance and last night's performance side by side, you'd see many changes. We've cut twelve minutes out of the show since it opened on Broadway, we've redone orchestrations in places, we've reworked choreography in places. Twenty years is a huge span of time, and what the audience is comfortable with, what we're comfortable with, and what we want to put onstage has adapted. The most important thing is to keep it fresh and contemporary for the audience and we've always kept working on that.
The second thing we've done is adapted the marketing over the years, though always playing on Julie Taymor's artistry, as that has dictated how we sell – you see her costumes, you see her designs, you see what the show looks like. We have represented it that way since around the fifth anniversary.
What is the biggest challenge of bringing a classic and beloved film (like The Lion King) to the stage as a musical?
Keep in mind that one advantage we have had with almost everything we've done is that when we have adapted a movie, we adapted a musical movie. So, with The Lion King, Beauty and the Beast, Frozen, Tarzan, The Little Mermaid, Aladdin, etc., the audience knows the songs, so we're not turning something into a musical; music was always the language for telling the story. I think where some things can struggle or stumble slightly is trying to find a way that music tells that story – does it need music to do it?
Now, we add a lot of music – there's vastly more new music in Frozen than the original film, but what Bobby Lopez and Kristen Anderson-Lopez did was to expand a movie that was conceived as a musical into a full-scale stage musical. That's very different from taking characters who did not organically sing and have them start singing. It's a big difference.
Now there are many stories that I think do sing. I'll give you a really good example, which is the creation of The King and I. When Gertrude Lawrence saw the movie, Anna and the King of Siam, she asked Richard Rodgers to make it into a musical for her. But, when you think about who Anna is, two characteristics allow her to sing: she has a great deal of inner monologue, because she's alone with Louis, her son, in this foreign land, and the second part is, she's a teacher. Teachers stand up in front of you and present, so those two things – inner monologue and teaching – become windows into musicalizing.
Shifting gears here – in addition to being the President of Disney Theatrical, you serve as Chairman of the Board of The Broadway League. Can you talk a bit about that position?
Because I grew up in the non-profit world, I understand the notion of boards and structure. Both my father and my grandfather ran trade associations, so I really understand the hard work of Charlotte St. Martin, who is a dear friend and a sensational partner.
Charlotte and her remarkable staff at the League do all the work and the Chairs rotate in for three-year terms. The Chairman must represent a variety of members of the theater industry. Because I am an active producer, serve the function of a theater operator (though Disney doesn't own the New Amsterdam), oversee several North American tours, and I used to be in regional theater, I have experience with many parts of the business. However, my real job is to listen to people, and find out what they need. When I chair a meeting, my job is to say, "Now what do you think?". If I can do that, then I think I've done the job, which is to provide a fulcrum, a place where the information goes, to then activate it through all our sensational committees, and to listen to Charlotte.
You are obviously very accomplished, but do you have any more goals you'd like to see through in the entertainment industry?
I've probably pursued the same thing my whole career, which is to try to find new ways to communicate to audiences and to introduce artists. So, if you look at what we've done with what we've produced, we have very often introduced people who may not have worked in that specific form before. So, we've given a lot of opportunities to people, whether they're actors, directors, choreographers, or designers whose work has not yet been widely seen (for example you might have noticed we don't star-cast until very late in the run of a show, and some of our original cast members have become stars because they were given this chance). There's no question that our shows have a very broad sense of entertainment. They're very accessible, but we've also used techniques and cast shows in ways that may have been unexpected, and I think that helps to break down some barriers. When people engage with theater, they recognize that the arts are a viable way to spend their time as well as a way to make a viable living. The arts bring vibrancy to a community. Pick any theater in America, commercial or non-profit, and the impact they make in their community is enormous, whether it's driving restaurants, parking, hotels, or local industry. The arts keep communities alive, and the more work Disney Theatrical develops, the more we can send shows out in the world that do that.
You know, I've had this odd career of working in the commercial world and the non-profit world, working in the film world, working in the theater world, working on these tiny things, working on big huge hits, and I frankly don't find the experiences that different. I find most of the elements the same, no matter the scale, because you're in service of an audience, you're in service of the community, and you're in service of the creators of the material. If you can be in service of the audience and in service of those creators of the material, you've done your job as producer.