A Q&A with Robert Whitehead Award-Winner Tom Kirdahy Part One
Jun 5, 2019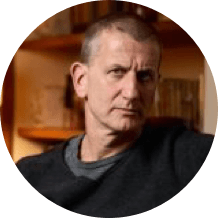 The esteemed lawyer, producer, humanitarian, and Whitehead Award-winner Tom Kirdahy shares his remarkable past with the CTI blog. 
Tom's passion and commitment has made him an irreplaceable member of the theatrical community. Read on for this exclusive two-part interview about the HIV/AIDS epidemic, the importance of storytelling, and the challenges of creating a Broadway hit.
Can you tell us about your background and how you came to be a Broadway producer?
I've always loved the theater. I grew up on Long Island. When I was young, I begged my parents to take me to see a Broadway show. The first show I ever saw was The Magic Show, followed quickly by Pippin and Chicago. By then, I had completely fallen in love with theater. I studied politics and dramatic literature in college and went to law school with the thought that I might become an entertainment lawyer. However, when I graduated law school, AIDS was ravaging the city. I switched my focus and spent two decades providing free legal services to individuals living with HIV/AIDS. I felt a deep need to be on the front lines fighting for LGBTQ and HIV/AIDS/Human rights. After twenty years, I returned to my original dream of working in theater, but rather than use my law degree to be an entertainment lawyer, I felt I had the skill set required to become a producer. I took the CTI Three-Day Intensive which helped me profoundly, as Tom Viertel is truly one of the greats – and then it was off to the races!
What was your experience like advocating for those living with HIV/AIDS, and what inspired you to dedicate so much of your life to this issue?
I've always been interested in social justice. I was President of the statewide student government in high school, President of the student government during my undergraduate years at New York University, and Chair of the university-wide student government during law school. I've always had a deep belief in the importance of community, giving back, and intersectionality. I wasn't interested in second-class citizenship for myself as a gay man. All our rights are intertwined – none of us are free unless we are all free. I saw my community being decimated by AIDS. My friends were sick, and the government was indifferent to our needs. The truth is, I thought I would provide these legal services for a few years; I never imagined that the height of the epidemic would last as long as it did and that the need for advocacy would be as great as it was. Once I started, I didn't feel I could stop. As the demographic of the epidemic shifted, so did my focus. I worked for a decade in the Bronx. It just felt like the natural extension of everything I believed in. I didn't want to sit on the sidelines and be a bystander – I wanted to be deep in it and give the fight everything I had.
You also serve as Chairperson of the Broadway League Government Relations Committee. Can you talk about the work of that committee?
I love working in the Broadway sphere because we get to tell stories that can change lives. My interest in politics extends to my interest in helping us as a producing community tell these stories. I believe that theater has tremendous worth. I love being a member of the Broadway League and I love representing producers on the city, state, and federal level because I think what we do matters. We as an industry were not well-enough organized in the past, so we had to work hard to catch up with film and television. Charlotte St. Martin has done a great job of strengthening the League. The world has finally started to notice not only the entertainment value of theater, but also its impact on communities, the economy, and job opportunities, all of which have been severely underappreciated. Attention must be paid! We are now taking ourselves more seriously as an industry, and my job is to ensure that the government does as well.
As a producer, what kind of work are you drawn to and what gives you the most satisfaction?
I am drawn to stories of human triumph that can move and inspire us (though of course I also believe in the importance of entertaining). Right now, I have Hadestown on Broadway, which is a glorious retelling of the Orpheus myth, and I think it's about the resilience of the human spirit. I also think it moves the theatrical form forward. I believe that everybody can see themselves in the cast that's on the stage at the Kerr and that, to me, is important. I also have a show that just won the Olivier Award in London, called The Inheritance, which bridges generations of LGBTQ people and tells a story of perseverance and strength. It implores us to look back and remember our past so that we can forge a better future for ourselves. I love stories that allow us to heal and leave us with hope.
What's been the biggest mistake you've ever made as a producer, and what did you learn from it?
I think the most important thing that I have learned is to choose projects that I'm passionate about. I don't get involved in a project simply for the sake of doing so. I need to feel a deep connection to the material. Selecting partners well is also key because your team is only as strong as its weakest member. I think it's important to surround yourself with the best and the brightest. When I've made sentimental decisions, I've been less successful than when I've allowed myself to be stretched. I now feel comfortable enough to surround myself with people who have skills that I lack. Rather than make me feel insecure, it makes me feel empowered and protected.