Nederlander's Nick Scandalios Part One
Jul 31, 2019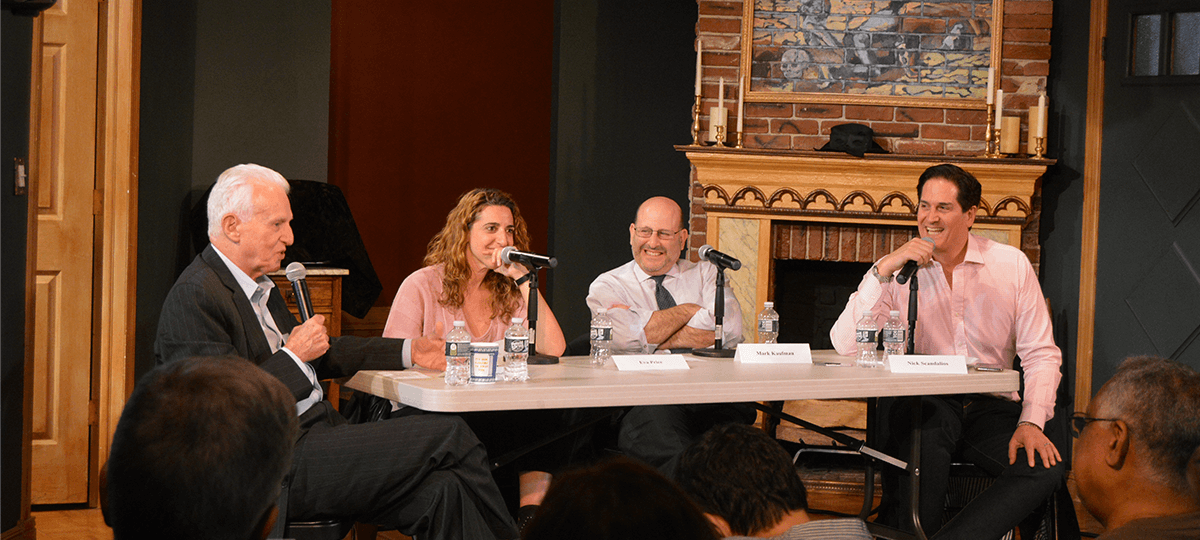 By CTI Staff Member: Madeline Carney
It was a hot, sticky Manhattan afternoon – the kind where the pavement starts to melt into a gooey black tar – when I sat down to chat with Nederlander's Executive Vice President, Nick Scandalios.  His assistant led me to a quiet conference room, starkly decorated aside from the Hirschfelds scattered across the walls.  I was immediately drawn to the Peter Pan sketch, an ethereal cartoon boy floating among stars and pixie dust.  Nick quietly entered the room, taking a seat beside me at the table.  He seemed hesitant to interrupt my admiring of the picture.  The interview that followed was a refreshing, inspiring, and heartfelt conversation that I was reluctant to end; below is a pared down, edited version of the exchange that I hope captures the wisdom and generosity of a true theatrical great…
What does your role as Executive Vice President of The Nederlander Organization entail and what does your typical day-to-day look like?
There's no day-to-day that happens with any regularity. Nederlander is broken into multiple branches, as it's a real estate company that owns many theaters. Some days are about the booking and maintenance of the Broadway theaters, some are about the programming of the theaters on the road, and others may not involve much theater at all. I like that my job requires these various elements to mix; a single day can be filled with a variety of business components.
What is your favorite part of the job and what are some of the biggest challenges?
I don't think I have a favorite part of the job – I genuinely love every aspect and look forward to coming to work each morning. I think the problems, to the extent that we have them in the theater, are interesting ones to solve – there's nothing cataclysmic about them. For example, right now, I think a fascinating challenge is to determine our future relationships with consumers; how can we make the experience better for our patrons from start to finish and beyond? A major piece of that is the ticket-buying process, and there's a lot of change happening in that realm (some good and some less good). We will likely be in a different place in five years. I think another challenge is the shift in our audience demographics, both in age and makeup. We are in a period of great transition and the shows we create need to keep pace with these changes in order to continue inspiring our fans. Because of this, I believe we are going to have to alter the way we look at revivals of classics in the future. These challenges, whether big or small, contribute to the overall arc of our industry.
I've heard that you once aspired to be an actor. How has your journey led you to where you are today?
My journey was like that of many industry professionals; I was an actor when I was younger. My parents made a deal with me that if I went to business school and still wanted to be an actor by the time I finished at twenty-two, then they would send me to whatever performance program I could get myself into. That was a smart deal on their end! My accepting of this should have been the first of many signs that I wasn't going to pursue a career in acting – I wasn't absolutely hungry for it and was perfectly content with a business degree. I still acted through college, but when it came time to graduate, I had had some limited experience producing and knew enough to examine myself as a potential actor. Talent (or lack of talent) aside, looking at my abilities, 6' 4" frame, overall type, and lack of need to act, I decided that performing wasn't really for me. I then had to choose between being an investment banker or somehow finding my way into theater. I had a couple of excellent banking mentors who encouraged me to go unemployed and start sending out my resume, which is exactly what I did. A little circuitously, I ended up at Nederlander relatively quickly.
As you noted, it seems as though the entry point into the industry is through acting. I've had this conversation with several industry members now; do you think we should be working to educate more young students about the variety of professions within theater that exist beyond acting?
It certainly wouldn't hurt to introduce them to these roles, but I'm not positive whether it would have any significant impact. Children are exposed to acting as early as six-months-old, from television shows to magicians at birthday parties, and it's visually stimulating to them; the initial introduction to the theater and entertainment is via the performer. Unless a child is absolutely fascinated by a specific facet of theater, I think it takes them a long time to be able to fully comprehend the larger scope. In fact, I've experienced this first-hand. When we were doing On Your Feet,I brought my then seven-year-old twins to a rehearsal during the final days of run-throughs. I wanted them to see the bare-bones version of the show without all the moving scenery, lights, and costumes – maybe I could pique their interest in the behind-the-scenes aspect of theater. Jerry Mitchell and Sergio Trujillo gave my children lots of attention and walked them through the set model before the run-through to help them better connect some of the dots. After, when I asked whether any parts of the day had interested them, they rejected it all out of hand. Ultimately, I think you have to get older before you can absorb that kind of information, whereas performing is understood viscerally from a young age.
If you had the opportunity to bring any show to Broadway and return to your acting roots for one day only, what show would you pick and why?
The show that changed my life was Evita; Mandy Patinkin and Patti LuPone rocked my world as a teenager. Che in Evita has always been a favorite role of mine, and I got to play him in college; I think I would want to do that again. Maybe ten people would pay to watch the train wreck that that would be!