Q&A: Ray DeForest
Aug 1, 2018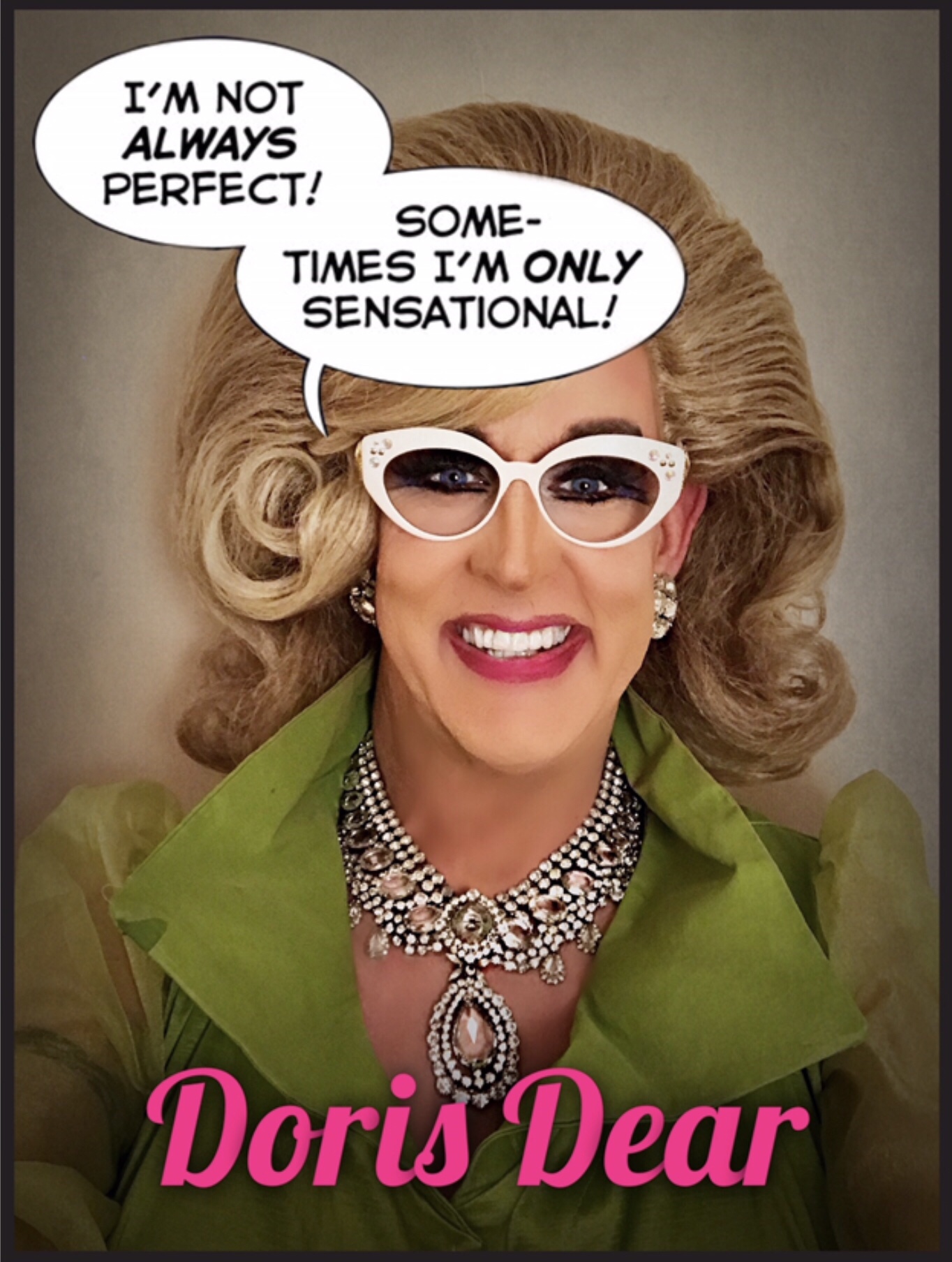 We talked this week with another CTI alum. Everyone who joins our courses brings with them a rich history of experience, and Ray DeForest is no exception.
Long-time thespian and producer, Ray, tells us about his goals, his huge array of abilities, and his fabulous alter-ego, Doris Dear. A fascinating, inspirational, and wide-ranging career in the entertainment industry gives him a unique perspective on theater-making of all kinds. Based in New York, he has championed new work in the US and across the pond in London. Underpinning everything he does is a strong focus on equality and inclusion; giving time and action to a cause close to his heart.
Can you start us off by talking about your career path and your background? How has CTI informed and affected that path?
I am celebrating my 42nd year of working full time in the entertainment industry, starting out as an actor/singer/dancer and then moving on to directing, choreographing and writing. My first professional job was at 18-years-old working in the "borscht belt" as a singer/dancer doing "summer stock." A year later I was hired by Walt Disney Productions and spent 5 years learning to be the best I could be at my craft. Soon afterward, I moved to Denmark where I produced several shows with a former Broadway gypsy, Gene Nettles, who invited me there to work with him. It was an experience that deepened my knowledge and theatrical skills beyond anything I could have imagined.
When I came back to the states, I started my on-camera television career. I did several local TV morning shows in top 20 markets and then moved on to hosting shows for HGTV, The Food Network and had a syndicated design show through Fox Productions. I was also producing major LGBT events throughout the world at the time, and decided it was time to produce on TV, and became a senior producer and director of a syndicated woman's magazine format show.
No matter how far I went from theater it was always calling me. I went back to theater with a successful show I created and was approached by investors and decided that before I accepted, I needed to attend CTI to "get the facts" and knowledge I needed to make a truly informed decision that would protect me and my property. Once I took the 3-Day course I realized producing commercial theater was a natural step for me and was where I truly wanted to be. I then moved on to taking all the one-day courses and was invited to participate in the O'Neill Intensive CTI course, which truly changed my life in theater. The experience at the O'Neill forged new strong relationships and partnerships for me and opened the world of commercial producing to me.
You are the President and owner of DeForest Theatricals. What type of work does your company produce? Is there anything in particular that draws you to a project?
I created DeForest Theatricals to "make theater grow." I believe as a commercial producer I have a responsibility to create a commercial entertainment experience for the audience. I am attracted to many different types of theater whether it be a socially relevant piece, LGBT pieces, a musical which lifts my heart or comedy which brings laughter to my soul. Most of all, the piece has to speak to me on some level.
Is there something in the theater industry that you think can be improved, and how would you propose to change it?
I think as theater professionals it is our duty to constantly try to be better at how we treat each other in the industry and how we spend our money bringing new shows to commercial production. I serve on the LGBT board for SAG-AFTRA and also on the SAG-AFTRA presidents committee on Sexual Harassment. I have spent most of my adult life fighting for and demanding equality in all aspects of life. As leaders, it is most important for us to lead the way – to make theater a safe space for everyone involved and support each other. By constantly reevaluating our work and our work spaces, we can assure that we create those safe places. With the rising costs of commercial theater I believe it is time for us to seriously look at how we develop shows and financially support that development. We have to think outside the box, find new avenues of producing and bring more creatives into the commercial producing space.
You are currently working on three commercial productions to bring to both the US and the UK. Can you tell us a little about these projects, and how producing in New York differs from producing in London?
I currently serve on the board of the non profit theater Pipeline Theater Company. After my theatrical lawyer invited me to one of their shows several years ago, I was really blown away by the creativity and theatrical "eye" this small company had. After meeting with Ariana Schrier and Natalie Gershtein who run the company, I was asked to join their board. The show I saw, The Gray Man, really stuck with me, so I decided to meet with the first-time writer and discuss optioning the piece to try and take to a commercial production. I immediately realized it was not really a commercial piece for NYC and after meeting with several high-level producers, Tom Viertel included, I decided to try to bring it to the UK. It's a wonderful piece of mystery and horror that scared me to death when I saw it! I went to London this spring and met with several theater owners and producers who are interested in partnering and possibly bringing the show to the UK for a commercial production.
Here in NYC, I am working as a co-producer with Jack Viertel and his production group on Bull Durham, A New Musical that we will have on Broadway very soon. It has everything I love – big musical numbers choreographed by Joshua Bergasse, amazing music by Susan Werner, script by Ron Shelton and directed by Marc Bruni. I met Jack Viertel at the O'Neill Intensive with CTI and he has been a great teacher and sounding board for me. It is a prime example of how CTI can connect you to great professionals and how important relationships are within the industry. I am also working with a Pulitzer Prize finalist, one of our great American writers on his newest piece. It is a journey unlike anything I have ever experienced. I love the creative involvement and find myself learning more about the process of artists.
The interesting thing for me is that when I was at CTI, I said… "I'll only do a musical" and "I won't go to produce in London". LOL. Never say never. The biggest difference in London versus New York is costs. The cost of bringing a commercial production in London is much less than here in the states for Broadway. The economics are very different and the risk in London is much less.
You produce and star in a one-woman show as Doris Dear, can you tell us a bit more about that?
Ha! The secret is out! I grew up in Staten Island, NY. My parents were Taffy and Duke! With names like that it writes itself! My mother suffered from Alzheimer's and during her decline she opened up to me about her life as a 1950s model and strong woman who believed in being her best.
She changed laws, protected children and was a strong believer in family and friends. To deal with her slipping away, I decided to write and perform a show about her. Doing it as "Ray" seemed to have limitations so I created a character named Doris Dear. Doris Dear is 1950's "Americas Perfect Housewife." She tells stories through songs and stories and uses magazines from the period to highlight those moments. I only meant to do it once, but it became a sold-out hit and 4 years later I now do several shows a year in NYC, where I invite talented amazing people to perform with her. It's like a "Dinah Shore meets Judy Garland" TV show. I have traveled around the US performing the shows and it continues to grow with now a possibility of taking her to TV!
Finally, what advice do you have for our readers?
I am truly a lucky man. Having a 40-year career in entertainment is truly unbelievable. My advice to anyone who is considering joining this amazing bunch of people would be: you have to love it to make it. Follow your heart, listen with your soul, and build relationships with others like you. And most importantly… learn to listen.
Thank you for the opportunity to chat today. And thank you CTI for opening up this amazing world to me!