The Maddening Enigma – A Note from Tom Viertel
Feb 7, 2019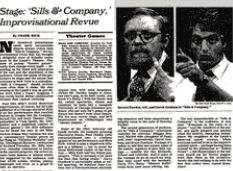 Back in 1986 when my partners and I were just starting our commercial producing careers, the second piece we produced was an entirely improvised off-Broadway show called Sills & Company. We had a cast that included some of the all-time great practitioners of improv and we were at the Lambs Theater (now the Lambs Club), a beautiful 300-seat venue. The show opened to mixed reviews and, because it was completely improvised every night, no two audiences saw the same show. Word of mouth was decidedly mixed because some nights were a lot funnier and pithier than others. Our mantra got to be "you shoulda been here last night!".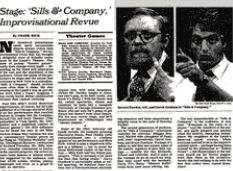 Performance after performance, we had half houses – about 150 people. We began to explore the possibility of moving to a smaller theater – say a 150-seat house – where our costs would be lower than at the Lambs and we imagined we'd be full every night. So, we scaled the show back and moved to the 150-seat Actors Playhouse. And every night, about 75 people showed up.
It was maddening. But if you stay committed to producing over more than a few years, you'll encounter crazy and mysterious things like that and probably spend the rest of your life trying to figure them out. I know I have.